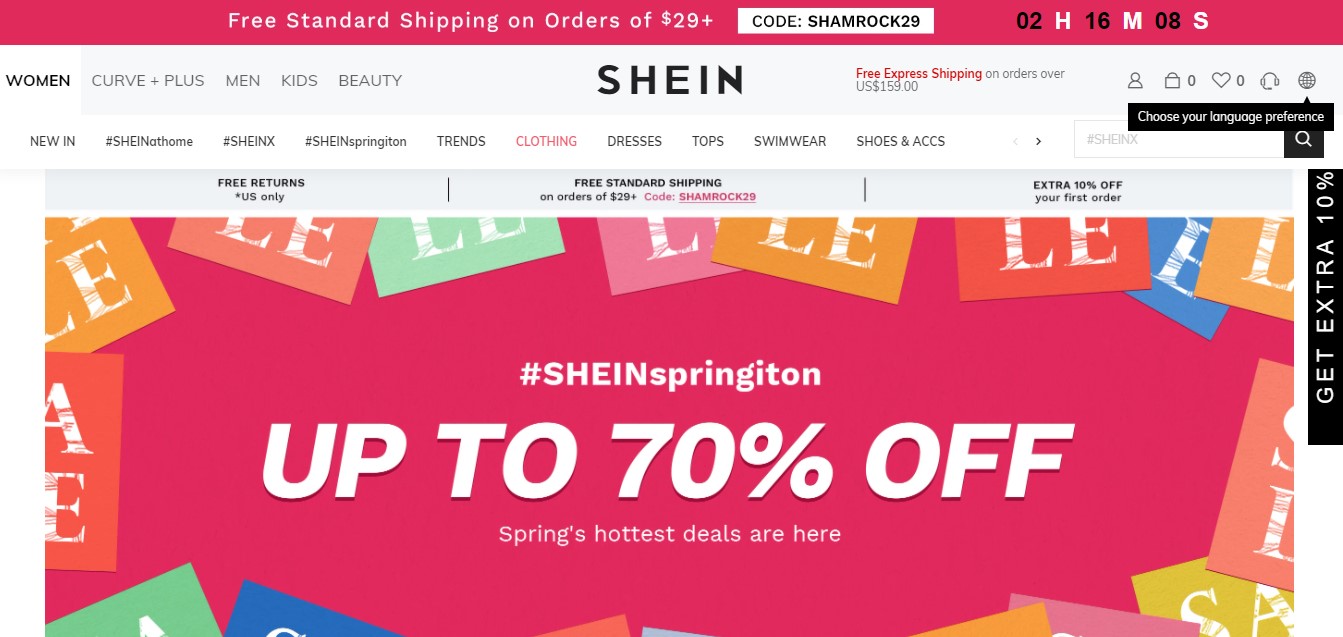 Looking for new trends to make yourself a part of the fashion industry?
You can now stylize your look as per the ongoing trends. The spring season is here with new trends in the fashion industry. And SHEIN is here to help you gain a good score in fashion game. SHEIN has come up with This Season's Must Have Looks where you can find all new collection of this season to make you more fashionable.
Take a look on This Season's Must Have Looks here and grab them to get a good position in the fashion game.
SHEIN has clothing, accessories, footwear, jewellery, bags and many more products for women as well as for kids and men too. SHEIN can be known as a one stop shop for all your fashion dreams. You can find all the trending outfits and new designs on SHEIN. You can find Must Have Looks on SHEIN, you can find this on the homepage where you can enjoy various discounted prices on the new trending clothes, footwear, accessories like hats, caps, jewellery, etc.
You can find the all new Spring/Summer Collection for 2021 at SHEIN. It has new collection in many product categories. A few of them are mentioned here to help you get a glimpse of the Must Have looks of this season:
You might want to refresh your wardrobe with all new collection of dresses, tops and bottom wear then you can simply visit their website Shein.com or sign in through their application, you can install the application to find the new collection. After signing in, you can find the Spring/Summer Collection 2021 and add them to your cart to buy them.
If you are looking for dresses, then SHEIN is the best platform where you can find different new styles of dresses like A Line, tee dresses, long dresses, and short dresses and many more. There are 128 new dresses under this Seasons Must have Looks.
You can shop by style, occasion and length of dress. A few Must Have dresses for this season are:
Tie Front Drawstring Ruched Cami Dress with code 'swdress07201102264' in burnt orange colour.
Shirred Waist Frill Trim Cami Dress with code 'swdress07201215382' in coffee brown colour.
Cross Wrap Front Peekaboo Dress with code 'swdress07201117173'.
There are so many new styles of tops introduced by SHEIN. It is possible that while scrolling you may wish to have those all in your cart but you have to select a few to look fashionable. Top rated among the available ones are:
Zipper Back High Low hem Gingham
Tie Front Fuzzy Top and Skirt
Solid Cami Top Wrap Tie Side Skirt set
You can find many more available on SHEIN to amp your fashion game. You can also find Bottoms like shorts, pants and leggings. A few top rated are:
1. Seam Front Slant Pocket Shorts
2. High Waist Wide Leg Shorts
3. Double Button Pleated Skirt
4. High Split Hem Striped Skirt
You can also find Must Have Looks in Plus Size Clothing like dresses, bottoms, etc. available on SHEIN.
You can find 11 newly introduced bags under Spring/Summer Collection 2021 like Ring handle hollow sachet bags, clutch bags, shoulder bags, bucket bag, backpacks and some of them have discounts on prices.
Some must haves for this season are:
Round Bucket Hollow Bag
Clutch bags
Backpacks
The new must have footwear for this season are:
Lace up Front Combat Boots
Tie Leg Chunky Heeled Thong Sandals
Toe Ring High Heeled Sandals
SHEIN has also introduced new necklaces and earrings to match with the new trends. Some of them which you must have in your wardrobe are-
Round Charm Drop Earrings
Geometric Drop Earrings
Faux Pearl and Flower Décor Ear Wrap
Accessories like belts, hats, caps etc. add in to your beauty and you want miss them if you are getting trendy accessories in various designs and colours. A few which can be used to accessorise yourself are:
Round Buckle Belt
Star Décor Chain Belt
Kids clothing include both girls and boys. This Season has new collections for kids too as SHEIN has introduced new styles for kids including clothing, footwear, etc. There are different and must have looks for toddlers too. Some of them are listed are:
Toddler Girls Rolled hem Shorts
Toddler Girls embroidered detail Lantern Sleeve Top
Toddler Boys Letter and Tropical Print Colorback top
Toddler Boys Collared Pocket Front Shirt
Girls Puff Sleeves schiffy romper
Girls Eyelet embroidered yoke belted jumpsuit
Boys Pocket Front Tropical Print shirt
Boys letter patched elastic waist shorts
Boys striped panel slant pocket pants
SHEIN has Spring/Summer 2021 collection has a bag of clothing and other accessories for men too. These include tops, hoodies, outerwear, knitwear, bottoms, etc. The new collection has 181 total products for men and choosing a few from them is not easy. So, here are a few suggestions to make you a fashion icon, these are some must have looks for this season:
Men Gingham top
Men Tape detail buckle strap zip up jacket
Men slant pocket two tone shorts
Men slogan and figure graphic drop shoulder hoodie
The collections mentioned here for everyone are only to a few of the all new must have looks for this season by SHEIN. You can find many products and can get various coupons and exciting deals as there is a flash sale on SHEIN. You can also find discounted prices on new collection of this season.
The Spring/Summer Collection 2021 by SHEIN has introduced new designs for Women, kids and men too, it is your chance now to fill in your cart with the new designs brought to you by SHEIN and a few of the products are also low in stock, so don't miss the chance to grab them to stylize yourself with the ongoing fashion trends at affordable prices.